Sing Swee Bee Group partners Gabadi for LNG joint venture (OSEA Today)
Sing Swee Bee Group, a Non-Destructive Testing (NDT) service provider for liquefied natural gas membrane carriers has partnered Spanish LNG membrane outfitting firm Gabadi to establish a joint venture for the construction of small-scale LNG membrane vessels, and to develop local capabilities in LNG membrane repair.
---
Link to Article
30 November 2016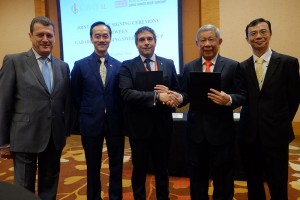 The longtime partners made the agreement official at a signing ceremony yesterday at OSEA2016, signed by Peh Lam Hoh, Managing Director of Sing Swee Bee Group and Antonio Jose Llago Hermida, Chief Executive Officer of Gabadi S.L.
The event was graced by Dr Koh Poh Koon, Minister of State, Ministry of Trade and Industry, His Excellency, Ambassador Miguel Angel Navarro Portera, Ambassador of Spain to Singapore, and about 100 industry guests.
Gabadi S.L. and SSB Group have been collaborating since 2014. With Gabadi being the first company to obtain TALA licence from Gaztransport & Technigaz (GTT) as an outfitting company for LNG membrane vessels, and SSB Group, the only Singapore company (one of the four companies in the world) certified to render LNG membrane global test for GTT's cargo containment system, both companies look forward to develop local capability not only in LNG membrane repair and testing, but also in the construction of small-scale LNG membrane vessels.
"There is a growing demand for LNG membrane repair especially in Singapore as the vessels dock at local shipyards. This joint venture will allow SSB Group to bring the engineering technology, expertise and experience in LNG membrane construction to this region, and develop local capabilities in this field. This bodes very well and complements Singapore's efforts in building a regional LNG hub," says Peh Lam Hoh, Managing Director of Sing Swee Bee Group.
The joint venture aims to significantly expand both companies' capabilities in their respective field, as well as providing a complete solution to shipyards, achieving a sustainable competitive advantage among the competitors in the industry.